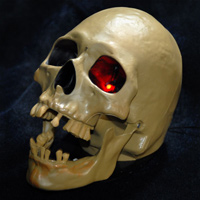 There are several ways to synchronize the movements of your animated props to audio.  Two of the more popular ways are MIDI control and audio control.  It's not always obvious which method is best, so I'll go over a few of the pros and cons of each.
MIDI:
Pro: You have precise control over the movements of the prop, regardless of what the audio is doing
Pro: Movements look more natural since they're animated by hand
Pro: Can have multiple channels or multiple props doing different things
Con: You must build sequences.  Can't just set it and forget it
Con: A computer is required
Con: You need to get a MIDI adapter for your computer
Audio:
Pro: Easiest to set up.  Just play some audio into the prop and it will do its thing without having to create sequences
Pro: No computer required.  Can be run from small MP3 player, etc.
Con: You don't have precise control over movements.  Prop will respond to any audio, including background sounds, etc.
Con: Less natural looking.  For instance, doesn't take into account how mouth would actually move to form each word
Con: Only one channel of animation (unless you synchronize several audio tracks)
Ultimately I would recommend using MIDI over audio because it gives you more control.  You can get similar results using audio if you create a separate audio track just for the prop animation that won't be heard, but if you're going to go through the trouble of hand-crafting your animations anyway, MIDI is much easier to work with.
Resources: